To be vested — which means ownership in a retirement plan — you must meet two requirements: age and service credit. That means you must reach a certain age and have enough working years under your belt to collect your pension.
Age: Depending on your retirement formula, your minimum retirement age could be 50, 52, or 55. (Note: If you have a combination of classic and PEPRA service, you may be eligible to retire at age 50.)
Service Credit: You must have at least five years of CalPERS-credited service, or 10 years if you are a State of California Second Tier member. (There are exceptions to the minimum service requirement: If you are employed on a part-time basis and have worked at least five years, or you are also a member of a reciprocal retirement system, contact us to find out if an exception applies to you.)
Let's look at a few scenarios:
Kristen is a 28-year-old PEPRA member and began her first CalPERS-covered job three years ago. She has not yet met either vesting requirement because she hasn't worked five years, but she's on her way.
Sasha is a 45-year-old classic member and has worked for a CalPERS employer for 12 years. She's vested in terms of service credit but must wait until at least age 50 to apply for retirement (depending on her retirement formula).
Alejandro is a 58-year-old PEPRA member with six years of CalPERS-covered employment. He may choose to retire and begin collecting his pension.
How do I know when I'm vested and eligible to retire?
We mail most members a postcard once these two requirements are met. In the meantime, your myCalPERS account estimates when you'll be eligible to retire. Your Annual Member Statement will tell you if you're eligible to retire.
Refer to this chart for eligibility by formula type. It shows your minimum age and service credit needed to retire.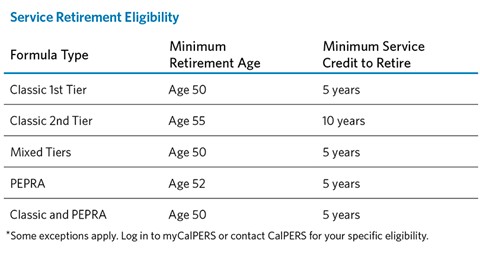 What if I don't know my retirement formula and service credit?
Generally, if you were hired before January 1, 2013, you are a classic member. If you were hired on or after, you are likely a PEPRA member. Log in to myCalPERS to view your Account Summary and latest Annual Member Statement. You can also check with your personnel office.
If I leave CalPERS-covered employment before reaching five years of service credit, what happens to my money?
If you separate from a CalPERS-covered employer, your benefits may be impacted. Generally, you may choose to leave your accumulated contributions in your account even if you work elsewhere. If you leave before achieving five years of service credit and you don't meet any exceptions, you may be eligible for a refund. However, electing a refund terminates your CalPERS membership; if you decide to return to a CalPERS-covered employer later in life, your service credit vesting would start over.
To learn more about your CalPERS benefits and planning for retirement, review Planning Your Service Retirement (PUB 1) (PDF).